You can link parent and child accounts. This will allow them to share email and phone numbers, as well as the Parent's card on file.

Adding a Child to a Parent Account

1. Navigate to the Parent's profile or create a new one if they do not have one yet

2. Click Add Child in the bottom right corner of the parent's profile
3. Search for the child's profile if they already have an account, otherwise create a new one

4. Once you select the profile and save those profiles will be connected. Any of the communications for the child will also be sent to the Parent phone and/or email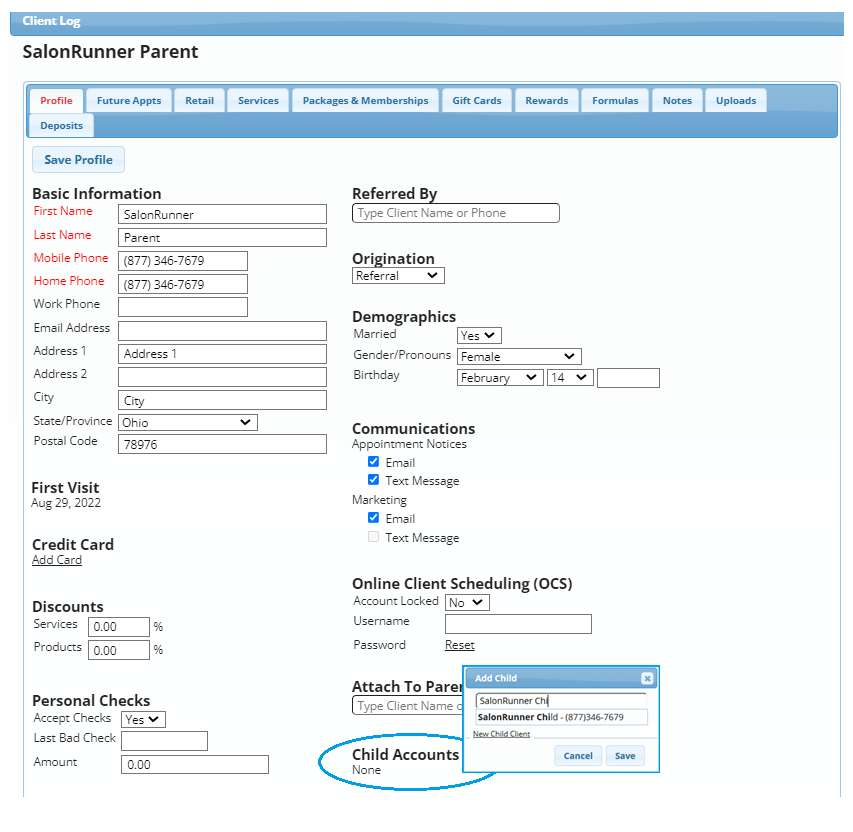 Adding a Parent to a Child's Account:

1. Navigate to a child's profile or create a new profile for a child

2. In the bottom right corner of their profile it says Attach a Parent. Use this to search for the name of the parent this profile should be attached to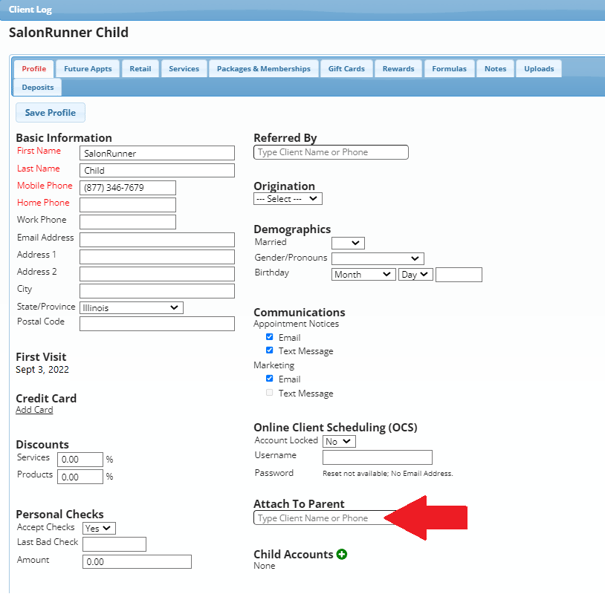 3. Once the parent profile has been selected, save this profile


Scheduling for Parent/Child Profiles through OCS:

Children will be able to schedule their appointments from the parent's account, they do not have their own separate login to schedule online. When a parent logs into their OCS profile, they will be able to choose who to schedule for.




A parent can also create a profile for their children online. Simply log into an OCS account and go to My Profile. At the bottom, choose Add Child. Once their information is entered and saved, they will automatically be added and synced in the Salon side as well.


Child Accounts using Parent Cards:

Child accounts have the ability to use their parent's credit card if there is one saved to the parent's profile. They also have the option to use a separate card if one is saved to the child's profile.
To choose whether or not a child is able to use their parent's card, navigate to the child's profile. On the left-hand side, there is a section labeled Credit Card, and in a child's account, there will be a drop-down where they can choose yes/no to allow the child to use the parent's card.